Weeks have gone by since I held our 3rd Annual Let's Party Like Girls night, yet I have still to share about it!

I have a little secret to tell you, though. It was my best party ever.
Want to know why?
Because it had heart. It had purpose.
It wasn't just a party, it was a night of filling up when we were empty. And giving back because we have something to give.
I have to admit, I don't necessarily think it was my prettiest party, though it was definitely lovely. Other than some new streamers because my other ones had gotten ruined and (real!) pineapples we spray painted gold, I didn't even purchase a thing.
The food wasn't catered like it had been in the past. Instead, I headed to Costco, got creative myself, and actually said "YES!" when friends asked if they could bring something.
I think the Lord swiped His hand atop our home that night, because it just felt blessed. And I love that there seemed to be more ladies over that I didn't know, than those I did.
It was a rough night for a party. Our community's Christmas party was the same night, as was a big parade downtown. Festivities had begun and office, church, and other excuses to gather were in abundance. And yet we had about 40 women.
Several friends who couldn't make it but had come in years past, encouraged their friends to come anyway, spreading the word that "it's a night not to be missed." And those that could come, brought a carful of ladies along with them...all dressed to party and reconnect.
Instagram friends became real-life friends. Neighbors new to our street became dear to my heart by the time they walked back home.
We gathered in our living room at one point, with the purpose of sharing about Denver Dream Center. We had an additional tree set up next to the piano full of names of children with fathers in incarceration and families in our city with great need.
By the following morning, every card was gone. 40 children and a handful of families...all sponsored in honor of our Lord's birthday. You amazing world-changing women stepped up and now these families had gifts on Christmas!
Several of you who saw my posting on social media even reached out and though you didn't live nearby or were able to party with us, you still sponsored a child, or two, or five!
I also gave away books I love...some by friends and some by ladies I'd like to be friends with: Curious Faith, Looking for Lovely, The Nesting Place, Loving my Actual Life, Girl Meets Change, Hello Beauty Full, and a few others.
For many of the gifts, I pulled names from a hat. But for others, I'd describe the book or explain the heart around something and toss it onto the ground in front of me saying, "Whoever feels like they need this in their current season, grab it quick!"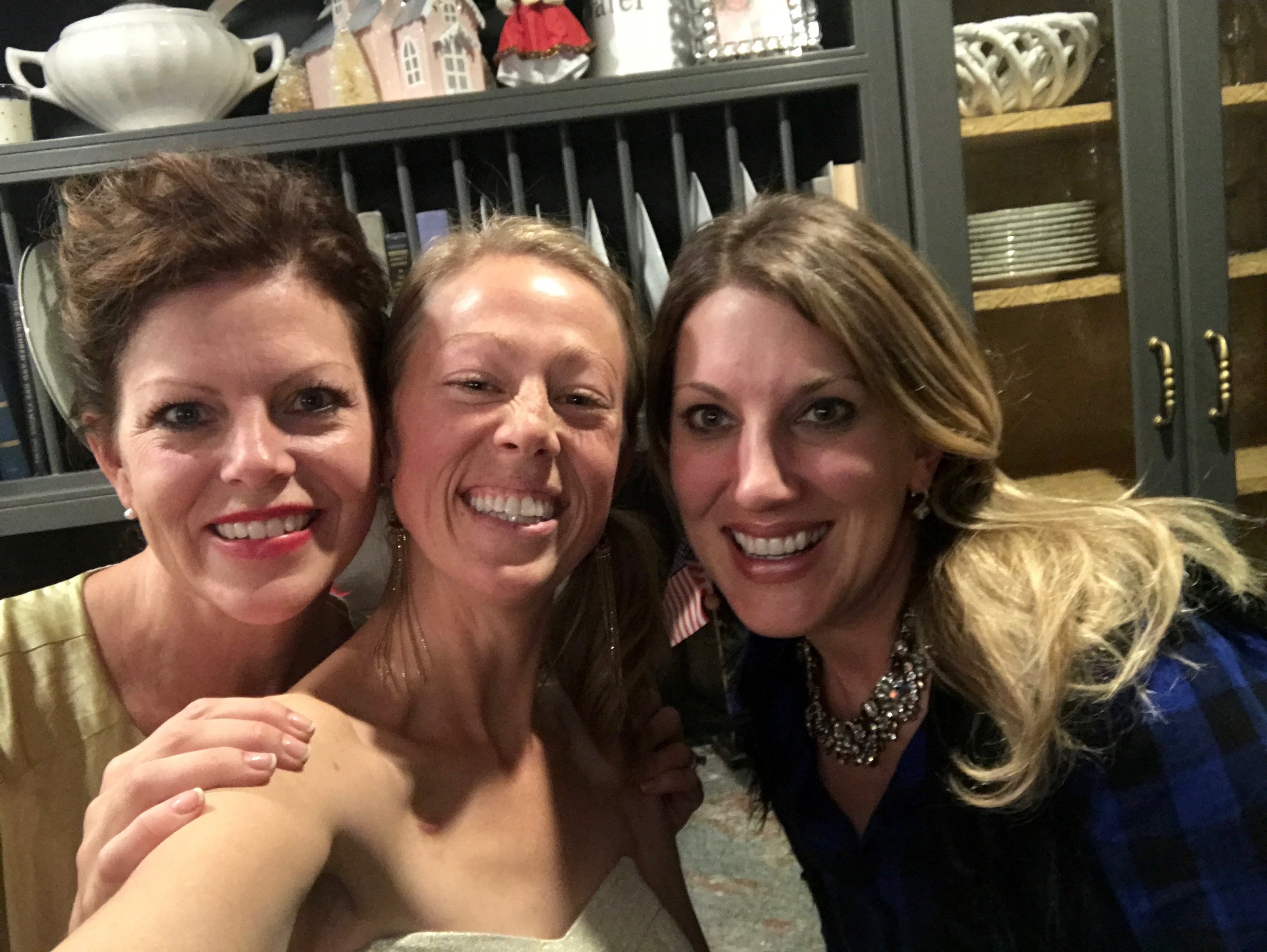 Even if you don't have the ability to gift things like I did, what about making a slew of luxurious sugar scrubs, pouring them into little glass jars. Or maybe print out a stack of your favorite Bible Verses and tie them up with a pretty bow. Or even go crazy and have a few freezer meals to gift! Maybe not everyone would receive one...but how pampered would those feel who did?!
Think outside the box. It doesn't need to cost much, it just needs to come from the heart.
Not everyone at our party left with a giveaway item, but even if they did not, they left full. Empty turned to overflowing. Buckets filled so we may fill.
And that was the whole point of the night anyway, right?
Thanks to all of you who Airdropped photos to me throughout the evening! 'Cuz I kept forgetting to take them!
Click here, here, and here for more posts on past Let's Party Like Girls nights!
Take Joy,
Teresa
P.S. If you're ever in need of pretty cookies, turn it into a craft project with the kids! A package or two of colorful macroons, sugared flowers (I got ours from Michael's), and a little icing as glue...and suddenly they're fancy!
I also had a little edible gold leaf from another party and added a little extra glam!